British Ceramics Biennial 2015
AWARD
The Original Spode Factory Site, 26 September  – 8 November 2015
The centrepiece exhibition of the BCB 2015. A panel of judges chaired by Alun Graves, Senior Curator of Ceramics and Glass at the Victoria and Albert Museum,  selected eleven artists to present new works exemplifying the energy and vitality of the best of British contemporary ceramics practice. Set in the grand expanse of the China Hall, I showcased new works, 'Mechanical Methods of Forming'.
"Mechanical processes are particularly suited to production or numbered repetitive editions. To maintain involvement with the clay, try to use mechanical process creatively."[1]
[1] Pg 44 'Craft & Art of Clay: A Complete Potter's Handbook' Susan Peterson & Jan Peterson, Laurence King Publishers, (Fourth Edition) 2003.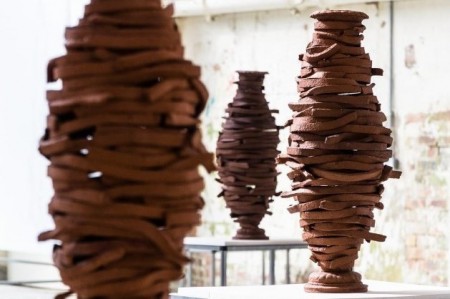 Mechanical Methods of Forming; 1140, 1200, 1240
2015
Extruded Terracotta Brick Clay
90 x 45cm